UNESCO – MGIEP #KindnessMatters Global Campaign
Kindness Advisor UNESCO-MGIEP #KindnessMatters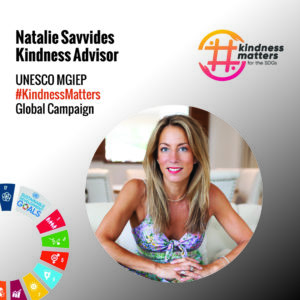 Dear friends and colleagues,
I'm so excited to share this wonderful news with you and all that will follow with it.  As you all know kindness is a matter very close to my heart, my mission in life is to live by it always, encourage others to do the same and to educate the youngest generation on the importance and limitless benefits of it and of course fundamentally how to be it.
And so….
I am delighted to accept the invitation from Patron Tessy Antony de Nassau to be part of the Kindness Advisory Council for the #KindnessMatters Global Campaign.
Kindness is not defined by lofty stories; it exists all around us and needs to be celebrated at every moment of life because #KindnessMatters every day. We're celebrating K3: kindness for self, others, and nature.
As an advisor for the campaign, I personally invite you to share with us a simple act of kindness that you performed today by simply clicking the link below 'Kindness Matters Platform'.
#KindnessMatters
@UNESCO_MGIEP